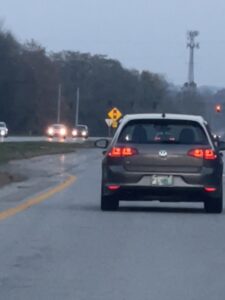 License State / Plate:
Illinois – 8210085
Type of Bad Driving Event:
Reckless
Date / Time:
11/04/2023
Location:
Valparaiso, IN, USA
Vehicle Make & Model:
Volkswagen – Golf
Event & Driver Description (no doxing please):
Lunatic driving extremely recklessly eastbound on route 30 in Valparaiso, IN. Kept swerving in and out of traffic and within the individual lane. Cut me off and nearly hit me, along with multiple other drivers. Excessive speeding as well – easily was going over 90 in a 55 mph zone. Eventually turned off route 30 and southbound on N 250 W towards Aberdeen / Boone Grove. Lunatic was probably wasted or strung out on meth. Seriously needs to have license taken away.
Struggled to get a good picture with them speeding and driving so recklessly.