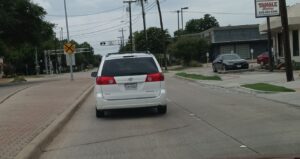 License State / Plate: Texas – JZP9081
Type of Bad Driving Event: Uncategorized
Date / Time: 07/16/2023 12:30 PM
Location: K Ave, Plano, TX 75074, USA
Vehicle Make & Model: Toyota Sienna MiniVan
Event & Driver Description (no doxing please): Psychotic "Karen" SPED SPEEDING through the RED LIGHT he had at K Ave. and 18th St. SPED RIGHT ACROSS MY FRONT BUMPER as I had the GREEN LIGHT and was going THRU the intersection! Had to SLAM on my brakes to keep from hitting this violent, deranged psychopath!!! Then going down 18th St. he was jerking and swerving in and out of lanes, continuing to cut me off when I tried to pass!!
Then turned onto G Street and continuting to JERK AND SWERVE in and out of lanes, and then the SAME THING going down 15th St.!!! Continuing to jerk and swerve in and out of lanes!!!
ALSO…….driving IN THE DARK, IN THE RAIN with NO HEADLIGHTS ON!!!
Yet ANOTHER psychotically deranged wanna-be murderer that has NO qualms about causing wrecks, trying to hit people on the road, SPEEDING through red lights and stop signs, and BREAKING A TON OF LAWS! And the Plano "police" just CANNOT be bothered!