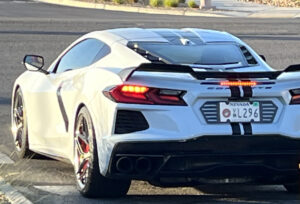 License State / Plate: Nevada – VML296
Type of Bad Driving Event: Reckless
Date / Time: 06/24/2023 7:00 PM
Location: Park Vista Dr, Las Vegas, NV 89138, USA
Vehicle Make & Model: Chevrolet Corvette
Event & Driver Description (no doxing please): Corvette was driving 60mph in a 30mph and almost crashed into four pedestrians; two parents pushing their children in strollers who were in a marked crosswalk.
Driver was either intoxicated, texting, or simply careless. Driver proceeded to have the audacity to go around a roundabout simply to curse out the parents in front of the children for crossing in a marked crosswalk.
Driver is highly reckless and I would avoid driving or walking anywhere near this vehicle / driver.