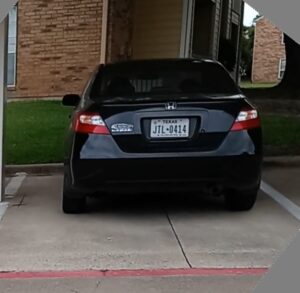 License State / Plate: Texas – JTL0414
Type of Bad Driving Event: Uncategorized
Date / Time: 06/12/2023 5:30 PM
Location: Cromwell Ct, Plano, TX 75075, USA
Vehicle Make & Model: Honda – Civic/Accord
Event & Driver Description (no doxing please): Just reporting a local wanna-be murderer. She SPEEDS thru the apartments and TRYS to run people down! I was walking in the parking lot area, and as I'm crossing over from one side to the other, she comes SPEEDING down the aisle, LOOKS DIRECTLY AT ME AND SPEEDS UP!!!!!! Comes within a foot of running over my feet!!!
This is about the third times she's done this to me, and I've seen her do it to other people as well!!
And theres a lot of elderly people here, as well as kids, that aren't going to be able to dodge this murderous lunatic forever!!!
The so-called "police" REFUSE TO DO THEIR JOB….AS USUAL. When I've called all I get is this excuse "We can't do anything unless she kills someone". SERIOUSLY!!! THAT IS THEIR RESPONSE!!! Worthless waste of taxpayers money!!
BE WARNED, THIS "KAREN" IS PSYCHOTIC AND DEADLY!!