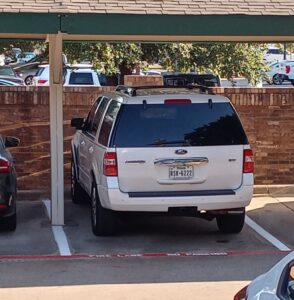 License State / Plate: Texas – RSK6222
Type of Bad Driving Event: Bad Parking
Date / Time: 09/22/2023 5:00 PM
Location: Amelia Ct, Plano, TX 75075, USA
Vehicle Make & Model: Ford – Expedition
Event & Driver Description (no doxing please): Another psycho Karen thinks her sh*t don't stink and can do anything she wants to people around her! She's a vilolent driver AND she takes up TWO PARKING SPACES where ever she parks! This pic is the first time I've EVER seen her NOT parked OVER THE LINE!!!
This Karen KNOWS people have picked out their parking spaces, even though there are no reserved ones, this complex is small and has twice as many spaces!
She parked in MY space this time! All the other tenants around here all have manners and consideration, as when someone picks out a sheltered space, we leave it for them, and them alone……..yet this narcissitic b*tch parks WHERE she wants, WHEN she wants, and ACROSS TWO SPACES 99% of the time!!
AND THIS PSYCHO KAREN LITERALLY HAS TWO SPACES RIGHT AT THE FRONT DOOR OF HER APARTMENT!!! And they are left for HER by other tenants, and yet SHE HAS TO INVADE OUR SPACES!!!
NASTY, RUDE, HATEFUL, SPITEFUL, INCONSIDERATE PSYCHO KAREN! WATCH OUT FOR HER!