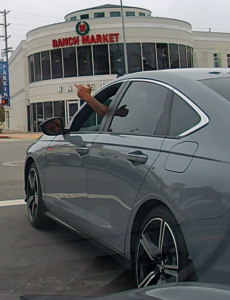 Video:
License State / Plate: California – CN42U49
Type of Bad Driving Event: Aggressive
Date / Time: 05/23/2023 1:30 PM
Location: Westwood, Los Angeles, CA, USA
Vehicle Make & Model: Honda – Accord
Event & Driver Description (no doxing please): I was slowing down in front of a red light and waiting for it to turn green, and this Accord was behind me. He wanted to make a right turn at this intersection. Basically, I didn't have to move and let him pass, it's not my duty, but he kept honking at me (the video wasn't recorded with audio) once I stopped the car behind the crosswalk. He kept honking so I just decided to move forward and let him pass. However, this driver is so aggressive that he lowered the window giving me his middle finger and insulting me with words like "F**k you, B**ch", etc. He kept doing these bad actions until the light turned green and I drove away.